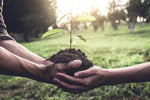 There has never been a more important time to give back to nature, and here at Polished London we truly care about our planet.
Working collectively for our planet
Whilst we recognise the need to do whatever we can on a personal level to mitigate our impact on the climate; be it cutting down on meat, growing our own veggies or ditching the car in favour of walking or cycling when possible, we understand that by working collectively we can achieve so much more. Which is why Polished London is proud to announce our partnership with environmental trail blazers, Ecologi.
What is Ecologi?
Ecologi is a Bristol-founded environmental social enterprise with saving the planet at its heart. Climate experts agree that planting trees is one of the most effective tools we have to address climate change and prevent global temperatures from increasing to dangerous levels.
With more than 36 million trees planted to date and a whopping 1.5million tonnes of CO2 reduced, Ecologi also partners with businesses large and small to support many amazing earth-saving projects across the globe, supporting communities to take collective action to tackle climate change and protect our beautiful world as we know it.
Impactful climate solutions
From Forest Garden projects in Uganda and Solar Power generation schemes in India to preserving ancient swathes of rainforest in Peru and Wind Power schemes in Vietnam, Ecologi is focused on supporting local people to work together to reduce carbon emissions to protect and preserve our entire planet for future generations.
Trusting in nature
Tree planting allows nature to effectively restore itself - and its remarkable ability to regulate our climate. In addition, supporting deforestation schemes in crucial regions like the Amazon rainforests of Brazil - dubbed the lungs of the earth - allows nature to flourish once again and restore what was previously in decline.
Ecologi helps businesses both large and small to offset their carbon footprint by giving back to a broad range of essential climate projects that can evidence a commitment towards reducing carbon emissions, working collectively to preserve our planet.
Our partnership with Ecologi has already begun and we are excited to have been busy planting trees in our own virtual forest, which you can view here: https://ecologi.com/polishedlondon
Together we really can make a difference.