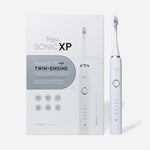 Choosing the right toothbrush - electric vs sonic toothbrush, what's the difference?
At Polished London, we know how good it feels to finish off your morning hygiene routine with a toothbrush that delivers an advanced clean to equip you with a sparkling, confident smile that sets you up for the day ahead. But with so many of us juggling increasingly hectic schedules, how can this be achieved consistently? 
Winning smiles
We know there is no better feeling than making the switch from a manual toothbrush to a good quality electric toothbrush, and we recommend brushing both morning and night, flossing after meals and regular dental check-ups. Advancements in electric toothbrush technology have resulted in great strides towards healthier teeth and gums for all, but is there anything else you can do to take your oral care routine one step further and equip you with that winning smile you always dreamt of?
The most important thing to do before embarking on any new routine is to ensure you have the correct tools at hand, especially when it comes to your oral care.
It might just be time to level up your toothbrush.
The evolution of brushing
From its humble beginnings in ancient Egypt around 5,000 years ago, the practice of brushing and cleaning the teeth really has come a long way. Over the past few decades, dentistry and oral health have advanced beyond all recognition and the contribution of a healthy mouth and teeth toward overall health has never been more valued and understood.
Electric toothbrush
Offering a much deeper clean than manual toothbrushes, good quality electric toothbrushes can remove more plaque and tartar than standard brushing alone. 
Usually offering somewhere between 2,500 and 7,500 brush strokes per minute, an electric toothbrush does most of the work for you and really can contribute towards a healthier smile and improved gum health. 
Electric rotating-oscillating - or spinning head - rotary toothbrushes are designed to clean each tooth individually. Generally lower powered than sonic toothbrushes, an electric toothbrush utilises a rotating head that can provide very effective cleaning when used according to instructions.
But have you been wondering about the sonic toothbrush? Is there really a difference and can it clean teeth better than an electric brush?
Sonic toothbrush
Sonic toothbrushes work using a two-pronged approach, firstly by way of a scrubbing action that all tooth cleaning methods utilise and secondly using powerful sonic - or sound - vibrations. The advanced vibration method is truly effective and works to loosen tiny particles of food debris from the entire mouth, these are then powerfully flushed from the teeth and even below the gum line via fluid dynamics and the creation of millions of miniscule bubbles. In stark contrast to your average electric toothbrush, many sonic toothbrushes on the market typically offer the equivalent of around 30,000 strokes per minute. It goes without saying that an electric toothbrush provides a more effective clean than a traditional manual toothbrush, but a good quality sonic toothbrush truly is a step up toward optimal oral health and periodontal disease prevention.
Polished London Sonic XP toothbrush
Designed alongside dentists, our Sonic XP toothbrush uses powerful high frequency sonic technology to deliver an impeccable advanced clean, a healthier mouth and a pristine smile in record time.
The Sonic XP offers an astonishing 40,000 brush strokes per minute to gently but deeply clean those hard to clean crevices that standard brushing and even many electric oscillating toothbrushes simply cannot reach. Used twice daily with a good quality toothpaste Sonic XP uses a powerful brushing action to diligently clean away tiny traces of food debris to prevent plaque build-up that can lead to tooth decay. 
Suitable even for sensitive teeth, Sonic XP can provide up to 10X more plaque removal than a manual toothbrush and also can also deliver a high standard of massage to oral tissues, effectively cleaning just below the gum line and contributing to improved blood flow, healthier gums and a dazzling, healthy smile. With its built-in two minute timer function, you could soon be on your way to your winning smile.
Patented technology
Powered by patented twin-engine motors and utilising magnetic levitation technology, the Sonic XP features five smart performance modes for comfort and convenience. Each toothbrush head features DuPontTM bristles and a W-shaped Sonic XP Wave Surface Design which effectively cleans the natural contours of your teeth, plus a Polishing Element to remove stains. With around three weeks of usage from a single charge, the Sonic XP toothbrush delivers an incredible, long-lasting cleaning experience and is available in crisp white or stylish black.
Protecting overall oral health
In addition, sonic toothbrushes have been demonstrated to remove existing dental plaque thereby protecting tooth enamel and may also reduce gingivitis or gum inflammation linked to residual bacteria, working to keep your mouth healthy between dental visits.
Used in conjunction with our tooth whitening and oral hygiene products the Sonic XP toothbrush really can help you to maximise your smile and give your confidence a welcome boost.
Confidence is everything
At Polished London, we know the difference a sparkling, crisp, white smile can make to your wellbeing, allowing you to move through each day with confidence and help you to succeed and be the very best version of you. 
It all starts with a smile.
Our other products

Ideal for the eco-conscious and also handy for keeping with your travel toiletries, our Bamboo Toothbrushes are made using sustainable bamboo, carefully selected from the Panda friendly Moso variety which is grown responsibly without the use of harmful pesticides or fertilisers. Used correctly for a full two minutes and powered by you, our Bamboo Toothbrush offers the same standard of cleaning as a conventional plastic brush at approximately 200-300 strokes per minute, minus the cost to the environment. The brush is vegan friendly, BPA free and the handle is 100% biodegradable. 
Alongside flossing and a regular scale and polish with your dentist, a traditional toothbrush can still deliver a thorough clean, but be prepared to set aside the time - and the elbow grease!
For added convenience and ideal for use when travelling, camping or even if you're in a rush and every minute counts, our Toothpaste Tablets are a convenient alternative method of oral cleaning. Ideal for anyone looking for an environmentally friendly alternative to toothpaste and the perfect partner for our Bamboo Toothbrush, our Toothbrush Tablets are also vegan friendly and come packaged in a plastic-free, recyclable tube.
Without compromising on oral health, the minty fresh tablets offer the same level of cleaning power as traditional toothpaste, including added fluoride to help prevent tooth decay.