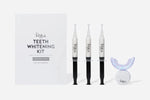 Your smile is often one of the first things that other people notice about you, so it goes without saying that you'll want yours to be as bright and confident as possible.
Over time, everyday indulgences such as tea, coffee and red wine can take their toll on the teeth and often result in noticeable staining. A crisp white, bright smile has arguably never been more popular which is why teeth whitening is currently one of the most commonly requested cosmetic dental treatments.
LED (Light Emitting Diode) teeth whitening. is one of the most attainable and affordable whitening methods available, it involves using a blue LED light to effectively speed up the effects of tooth whitening gels to deliver great results. But exactly how do LED teeth whitening kit methods work?
How does our LED teeth whitening kit work?
LED teeth whitening is based on the long utilised by dentists' professional tooth whitening method, where a bleaching or whitening agent is applied to the tooth surface. Commonly used teeth whitening agents include hydrogen peroxide, carbamide peroxide.
Next, an LED ultraviolet light, often in the form of a curved mouthpiece, is then directed at the teeth in order to enhance and speed up the whitening process and effectively break down and remove surface stains, delivering a noticeably whiter smile in as little as two or three sessions.
While some people choose to book in for professional tooth whitening procedures such as these, it can be costly and difficult to schedule appointments so many people now opt to conveniently whiten their own teeth at home with the help of a teeth whitening kit.
Are LED teeth whitening kits safe?
While teeth whitening makes your smile brighter and works wonders for your confidence, over-use of some whitening treatments or using too much whitening agent may lead to increased tooth sensitivity, cause irritation to your gums and damage the tooth enamel.
It's really important to do your research when it comes to the range of teeth whitening kits ingredients and LED teeth whitening devices as there are many options when it comes to choosing your teeth whitening kit. available. Make sure you make the right choice for your needs before embarking on any tooth whitening treatment and follow the instructions carefully.
It's also a good idea to consult with your dentist if you have any oral health concerns or veneers, caps, implants or bridges as these aren't designed to be whitened and will require care from your own dentist.
Hydrogen peroxide, carbamide peroxide or PAP?
Some LED teeth whitening kits utilise hydrogen peroxide or carbamide peroxide which work by penetrating deeply into the teeth to break down stains. However, while proven to be effective, tooth whitening treatments which contain peroxide can lead to gum irritation and increased tooth sensitivity, particularly when eating hot or cold foods and drinks.
Some higher concentration peroxide formulas and teeth whitening procedures have been found to damage tooth enamel, damage which is usually irreversible.
What is PAP?
PAP (Phthalimidoperoxycaproic acid) is a synthetic organic acid used relatively newly to whiten teeth, but it is also sometimes used in laundry products due to its gentle whitening and brightening capabilities.
PAP has been found to whiten teeth as effectively as peroxide teeth whitening methods, but minus the irritation, tooth sensitivity and damage to enamel that the use of peroxide whitening agents may result in.
Is LED teeth whitening suitable for sensitive teeth?
The primary whitening ingredients mentioned above are bleaching agent or oxidation agents and work in much the same way, whereby oxygen molecules react with the discoloured tooth molecules to lift and remove stains via a chemical reaction process known as oxidation.
However, PAP does not penetrate as deeply into the teeth as carbamide or hydrogen peroxide, but has been clinically-proven to lift surface stains as effectively as peroxide-based formulas, making it a safer tooth whitening method for anyone who already has or is concerned about sensitive teeth.
The Polished London difference.
Our Award-Winning LED teeth whitening system combines advanced LED Dual Light Technology and an enamel-safe, peroxide-free PAP whitening gel that has been developed and tested by UK dentists to provide an effective whitening and oral hygiene treatment with zero sensitivity.
Safe, effective and easy to use, our clinically-proven home teeth whitening kits will help you achieve a whiter, brighter smile from the comfort of your home.
The kit features an accelerated whitening option (Blue light mode) and the combined whitening, sterilising and odour reduction option (Blue light & Red light mode).
When used according to the 14-day treatment plan instructions, our LED whitening process has no negative side effects and can effectively whiten your teeth by several shades without pain, damage to enamel or subsequent sensitivity.
Maintain your brighter smile.
Once you've achieved your desired lighter shade, you'll want to maintain it with some follow-up teeth whitening products. A good place to start is a quality, effective whitening toothpaste such as Ultra Whitening Toothpaste, formulated by dentists the toothpaste is sodium lauryl sulfate free and flavoured with natural mint oils.
Our Polished London teeth whitening pen is another great and speedy way to keep your smile bright and confident. Buy our teeth whitening kit and whitening pen as a bundle and save money.  With results visible in just one minute, the pen is ideal for whitening teeth on the go and is ideal to keep in your handbag or bag when you need a little confidence boost before a big meeting or a night out. Another alternative to our kits are our teeth whitening strips which are available in 14 or 28 day plans.
How to use the Polished London LED teeth whitening kit.
Rinse your mouth with fresh water
Apply the whitening gel evenly to both the upper and lower areas of the mouthpiece
Place the mouthpiece in your mouth, gently bite it and turn on the LED light
Select the whitening mode you require:

Accelerated whitening (Blue mode: 15 mins), or
Oral hygiene and whitening (Blue & Red mode: 10 mins)

Remove the mouthpiece, rinse your mouth well with water
Wipe any residual product from the mouthpiece and rinse it thoroughly under running water, then leave it to air dry.
Please note that these instructions are simplified, more detailed instructions are provided with your home teeth whitening kit which includes 3 teeth whitening gel refills.