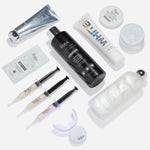 How to Get Started with Teeth Whitening at Home
If you're looking to achieve a bright, white smile, you may be overwhelmed by the various options available. With a huge variety of different whitening options and products available we will help inform you on how to safely start your teeth whitening journey. In this article we will cover some commonly asked questions...
PAP vs Peroxide
Polished London recommends PAP over peroxide and our PAP formula has been developed with UK Dentists to ensure maximum results to whiten teeth, without using potentially harmful chemicals such as hydrogen peroxide.
Peroxide is commonly seen in other whitening products and can lead to problems such as tooth sensitivity, cavities and tooth loss.
PAP is a whitening agent that doesn't require the use of abrasive chemicals or light-catalysed reactions. Instead, it's a gentle, non-invasive process that is safe for your teeth and gums.
What teeth Whitening Products do I need?
There are many types of products available such as Teeth Whitening Strips, Teeth Whitening Powder, Teeth Whitening Kits and Whitening Toothpaste so you could be overwhelmed with options. Our biggest advice is find a product that you are comfortable using and one that you can build into your daily routine as one of the key ways to ensure the effectiveness of Teeth Whitening is frequency of use.
How often do I need to whiten my teeth at home?
The answer to this is simple... To get the best results of your home teeth whitening we recommend using whitening products on a daily basis. The main reason is that frequency is key, especially if you are just starting your journey. Using teeth products daily help to remove and prevent the build-up of stains from the tooth surface, prevent tooth decay, strengthen tooth enamel, freshen breath and whiten teeth.
How quickly Will I see Results?
Everyone's journey is different and results will depend on a number of factors such as, the current colour of your teeth, product's used and how frequently you use them. With our teeth whitening kit and whitening strips we include a free teeth shade guide so you can track your progress. It may be hard to see differences on a daily basis so we would recommend using the shade guide on day 1 and then every 7 days after.
What would Polished London Recommend?
All of our products are designed to compliment each other and to get started we would recommend choosing a main whitening system which will form part of your daily routine. In addition we would also recommend using maintenance products which can be easily incorporated into your daily routine. A good Toothbrush is also key.
Main Teeth Whitening Product: This will be the main whitening product that we would recommend using daily.
Maintenance and top up Products: These products will be used to compliment your main whitening product, helping to accelerate and maintain the results.
A Good Toothbrush: A good toothbrush is key and our recommendation would always be a good electric toothbrush as they will help enhance teeth whitening whilst improving overall gum health and removing up to 10 times more plaque compared to a manual toothbrush. Not all electric toothbrushes are the same though.. Our Sonic XP Toothbrush has 40,000 brush movements per minute, whereas conventional electric toothbrushes only average between 2,500 to 7,500 by comparison.
Summary
Hopefully this would have helped and if you are ready to start your journey make sure that you are following us on our socials and are subscribed to our mailing list as we regularly send out discount codes and offers.
Subscribe to our mailing list at the bottom right of this website